Here lately I have been experimenting quite a bite with abstract photography techniques to create a new series of prints. I am fortunate to live in a beautiful place surrounded by water and I wanted to create a series of images that capture the beauty and tranquility of the Gulf of Mexico and Sarasota Bay. There is also a certain amount of uniformity and monotony in the landscape of a state that is at sea level, however, I have notice the water color changes throughout the day as the sun progress through the sky and the color of light changes. It is very interesting to observe and has provided me with a new appreciation for where I live. Using the motion or swipe abstract photography technique, I have been experimenting with capturing the varying colors and consistent vertical and horizontal colors.
This abstract photography technique requires a very slow shutter speed and smooth movement of the camera along a vertical or horizontal plane. Since I am capturing so many horizon lines, I typically shoot on a mono-pod or tripod. If you are not using either, keep your arms tucked in close to your body to provide stability for your camera. Your shutter speed must be slow, typically around 1/10 to 1/20 of a second. I generally use a small aperture to help achieve a slow shutter speed. On some images I have also used a polarizing filter to reduce exposure. Start moving your camera at a slow, but even pace and click the shutter. The important part is to click the shutter after you have started moving.  This abstract photography technique will require a certain amount of experimentation on your part to find the right aperture and shutter speed that works with your subject, but that is all part of the fun.
Here are a couple of examples:
Title: "Seaside"
Abstract Photography Example

Title: "Gulf Waters"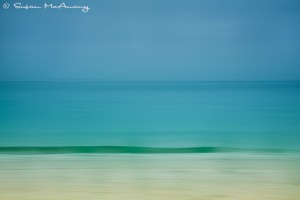 The full collection of my water images can be viewed here.
We all love to go somewhere new to become inspired and create new work. Fortunately, I have found being creative with abstract photography techniques has provided the perfect tool to become excited once again with the place I live.
Thanks for reading and more of my work can be viewed on susanmcanany.com or at my Etsy Store.