Recently I have been trying what I call the new-old image stacking technique. The old comes from having used an image stacking technique quite a bit in my macro work to achieve greater and sharper focus. Focus image stacking increases depth of field, something often needed in macro work.
The new image stacking technique creates a more abstract look. Sharon Tenenbaum teaches an image stacking technique that yields more of an impressionistic image style image using the camera. I really enjoyed the webinar and would recommend Sharon if you have an interest in learning this technique or any other webinars she offers that might interest you. She is great teacher and also gives all attendees a recording of the workshop.
The Technique
In the new image stacking technique you take 5-7 photos of the subject. With this technique it is critical to find an interesting subject and to move around the subject in a semi-circle keeping the subject in the same location in the viewfinder.
From there, download and edit the individual image files in either Photoshop or Lightroom. When edits are complete, load the image files into Photoshop on different layers. This can be done using Photoshop or Lightroom. Attention to lining up the images is critical. I like to select something in the image to use as the focus point and align all layers to that small specific area. Next, a create a black mask for each layer. Then fill the black mask with white of different opacity percentage, allowing different parts of the image to show through. From there, use a brush (20% opacity-black) and take out any detail that doesn't fit with the composition or the look you are trying to achieve.
Lastly, when the overall composition is complete, merge up the layers and complete any fine tune editing or special enhancement. This includes adjustments such as brightness, color enhancements, etc. This is done with Photoshop Adjustment Layers, Topaz, Nik Plug-In or other software programs available.
Sample Images of Image Stacking Technique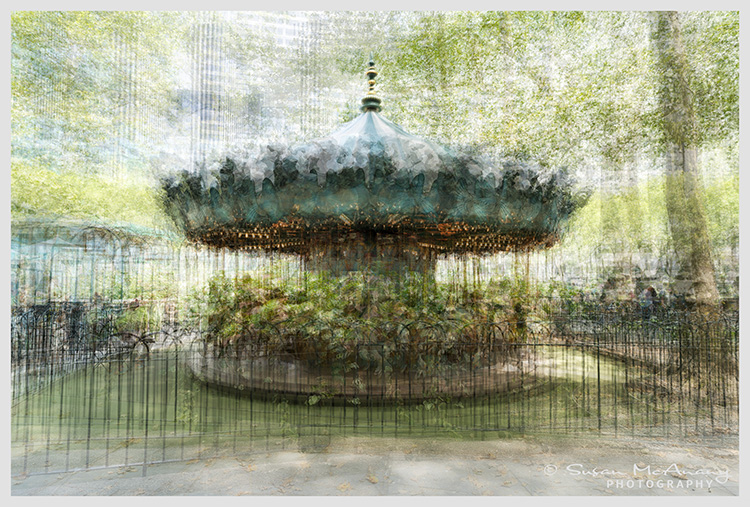 I truly love this process and as you can see, you get better with practice! It allows me to be creative in ways I never experienced before. Also, it provides a new twist on an old subject matter.
Thanks for reading and I hope your inspired to try something new with your photography! To view more of work, please visit my website.