This week I shipped out a fine art print "Rolling Hills", number 5 in a limited edition series. This is a very vibrant green piece of art and prints beautifully.
I was extremely happy that my professional printer was working during this difficult time of the pandemic.  They did a fantastic job as usual and delivery was prompt and undamaged. Hoping it arrives at it's destination, my client, with just as much speed and care.
Rolling Hills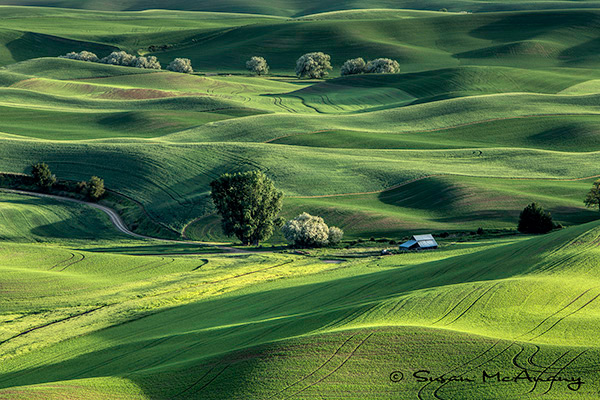 When printing I like to have an half inch to inch white border around the print. This allows for ample space for a signature and numbering and also easy handling.
This fine art print "Rolling Hills" was photographed in Washington state near or in Steptoe Butte State Park. This is a beautiful agricultural area and in June the rolling hills are lush green and a delight for the eyes. The year I was there was an especially lush year. There is also an abundant of old barns that are seriously fun to photograph and make for wonderful fine art prints for resale.  Here is another post that shows other images from the Palouse area. It truly is a magical place.
I just wanted to share some good news during a the pandemic. It seems as though there is lots of negative news around and this sale helped combat it. So I am extremely thankful.  I am also thankful for the support for artists and all others along the supply chain that helped my sale and shipping of the fine art print Rolling Hills to be completed.
Thanks for reading. More of my fine art prints can be viewed on my website or also at Saatchi Art.