It has been an incredible week at my Etsy Store. I have been working diligently on driving traffic to my Etsy store and increasing the amount of store listings. I am so happy to write I have broken 100 listings on Etsy and looking towards 200. I know I have plenty of art; it is just going back through many of my archives. It is an interesting process looking at images I shot months, and in many cases, years ago and assessing what I like or don't like about the photograph. I have to admit I have been pleasantly pleased. Only big drawback is image size due to size of sensor on camera's using at that time. My first digital SLR was only 6 megabytes which seems tiny now.  I am eagerly awaiting the release of Canon's new 5D which I believe will be around 50 megabits. Also it only captured in jpg and tiff files; no raw files. And of course the tiff files took forever to record due to the slow cards that existed. Also the color profiles were limited to srgb or at least that is all I was aware of at the time. Amazing how technology has changed in a decades time along with my knowledge. Lesson to be learned, shoot in Raw and process in Pro Photo rgb for the largest color capture capable. You can always reduce for final output.
Below are a couple that I uploaded to my Etsy store from my archives. I have always loved tulips and since it is the beginning of spring thought it would be a timely addition. Also I am finding the pink, green and white a real upper!
Prints Available for Sale on Etsy
Tulip love
perfection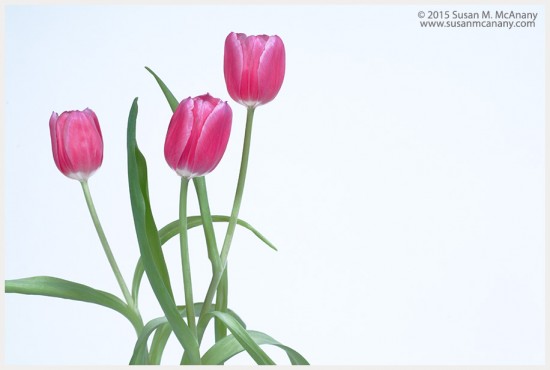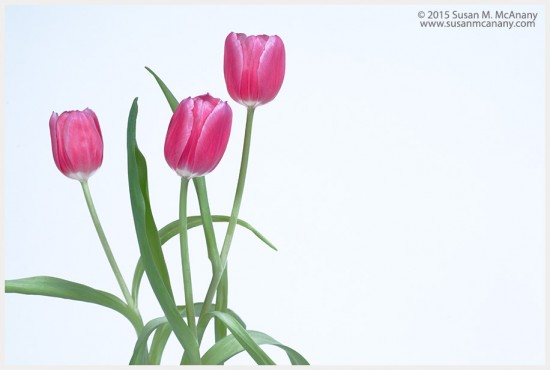 Thanks for looking and check out more of my work at my Etsy Store or on my website.