"The Library Book" by Susan Orleans is a must read for your summer or fall reading list. If like me, you grew up going to the library as a form of entertainment, you will find this book relatable and very interesting.
Susan Orlean's book resonates with me in several ways. She also had an affinity for the library having gone as a child, so I found her personal story very relatable. For myself, growing up in a family of eight there was always lots of noise. Often I remember how quiet the library was. The library offers a whole different ecosystem and a world of it's own. 
Ms. Orlean's book also gives a history lesson about Libraries and specifically the Central Library in Los Angeles wrapped up in a story telling style that kept my attention.  A key part of this history are the many librarians and their philosophies as they guide the library through changes over the decades.
Of course the main theme throughout the book is the 1986 fire at the Los Angeles Central Library. This devastating event lasted over seven hours and burned extremely hot due to all the books.  During the fire over 800,000 books were destroyed or damaged. In addition thousands of historical documents, photographs, microfiche and historical artifacts were destroyed. The library closed for seven years affecting hundreds of employees and patrons.
Harry Peaks, an aspiring actor and pathological lair was suspected and arrested but never formally charged or convicted for the crime. To this day the fire at the library remains unsolved.
One last thing this book details is the importance of the library system in people's lives. Not only does it provide enrichment and answers for people, but it is also a refuge for many when their lives are broken. The library accepts everyone, rich, poor, homeless or not.
For me, the library is a special place often a spiritual place. If you were lucky enough to grow up using the library, I am sure you feel a forever connection also. A library is full of knowledge and freely shares it. It provides community and hours of entertainment to all who use it.
Amazingly, all of this is free. Truly, a fascinating read. "The Library Book" by Susan Orleans is a must read this year!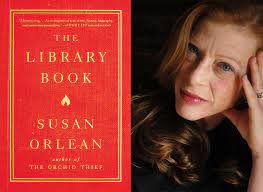 Thanks for reading and you can view my art at susanmcanany.com.